Welcome to "Robert Burns & Scotland," your source for CDs, notecards, prints and more celebrating Scotland's National Poet, Robert Burns, and his native land.  We are pleased to present CDs, notecards, prints, and books celebrating the poignant, joyous and universal themes of the writing of Robert Burns and the beauty of Scotland.  
NEW!
 
I am pleased to present my new 5" x 7" postcard depicting the favourite wildflowers of Robert Burns.
28th Letter from Robert Burns to Mrs. Dunlop ~ Ellisland, New-Year-Day Morning, 1789.
"I have some, favourite flowers in Spring, among which are the mountain-daisy, the hare-bell, the foxglove, the wild brier-rose,
the budding birk, and the hoary hawthorn, that I view and hang over with particular delight."
5″ x 7″ postcard
#PC007 $1.50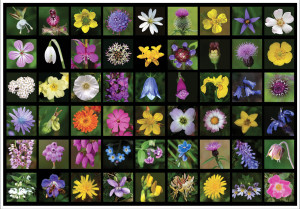 Wildflowers of Scotland
Scotland's most beloved wildflowers. All photos taken on Gillies Hill.
5″ x 7″ postcard
#PC005 $1.50
Please also visit our Gallery where you will find samples of the artists' photos, drawings and video-poem presentations. Feel free to contact us with any questions you may have about our products, photos or art work.  Thank-you!
Robert Burns & Scotland is a sister site of Sierra Nature Prints